UK Right of Registration is ending
Posted by:
Martyn Holden
Tags:
Nominet, Domain Names, News
Posted date:
18-06-2019

UK Right of Registration is coming to an end
It's been 5 years since Nominet first introduced the shorter .UK extension in June 2014.
Since then, millions of organisations have registered to the shorter .UK extension (including us) and experienced tremendous success building their brand.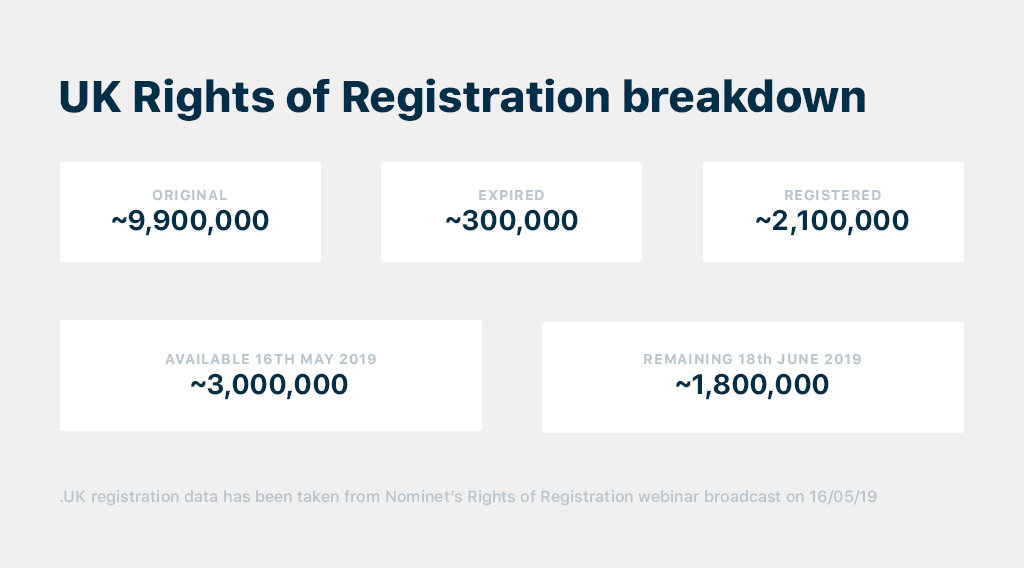 Nominet have been running a number of awareness campaigns to ensure all rights have been communicated to the rights holders. This has seen roughly 2 million .UK domain names registered in the last 5 years (of which 300,000 have since expired).
As a result of this, Fasthosts have pulled the same tactic as 123-Reg by registering all reserved .UK domain names to their respective rights holders on 11th June 2019. There was some backlash when 123-Reg did this 18 months prior when rights holders had nothing to worry about until now.
25th June 2019
Deadline for new reserved .UK registrations.
1st to 5th July 2019
Pre-release period for Nominet members only.
8th July 2019
All remaining .UK domains will now be available.
Established brands could miss out
As of 18th June, global brands such as FedEx, Honda and Samsung risk losing their reserved domain names to Nominet members. Domain names such as: fedex.uk, samsung.uk, volkswagen.uk and kia.uk would be made available, if they don't take action. Even UK brands like Lipton and Twinings could miss out.
This has resulted in some Nominet members signing an open letter declaring their disappointment.
Don't get caught out and ensure you take advantage of the right of registration before it's too late. Find out if you have the right of registration by entering your domain. Our clients can take advantage of their rights by contacting us on 01253 968004 or emailing support@easy-domains.co.uk.