Maximise your return on investment
Building effective PPC campaigns
Google Ads
Google is the market leader of the search advertising space, with roughly 90% of the UK market share. Promoting your website through Google Ads has never been more beneficial. Our team can help you reach new customers and new business.
Bing Ads
Explore alternative marketing opportunities through Bing Ads. Over 900 million searches are made through Bing every month. Tap into previously unexplored avenues and expand your business advertising strategies.
Compelling text advertising
Let's be honest. Your audience is not going to spend a long time reading your advert headline to see if it is worth their click. This could be the make or break of your advertising campaign. On average, we have seen an increased ROI of 42% through relevant text advertising research over generic campaigns.
Tailored landing pages
Don't make it hard for your audience to find the information they are looking for. Content rich landing pages will help you to maximise your chances for conversion. Help your audience find the products/information they're expecting without any trouble.
Geotargeting advertising
Don't advertise where you don't operate. Make use of location targeting and choose the areas that you wish to focus your advertising. You can be specific or flexible with your targeting - choose by town, city, county or country.
Demographic advertising
With demographic targeting you can concentrate on specific individuals who match your criteria. The current targeting options for search is age, gender and household income. For display and video campaigns, you can also target the parental status of the individual.
6 reasons why PPC advertising benefits your business
Competition for organic search engine ranked positions (SERPs) can be intense. Your competitors have likely spent considerable time and money establishing their online presence. PPC advertising is designed to run side by side with your organic search engine optimisation. We have composed a small list of reason why PPC is great for your business.
1) Only pay when people click
PPC is exactly as described - you pay per click. With more traditional advertising you are only hoping your target audience is going to engage with your advert. Whereas PPC advertising can provide you with a detailed breakdown of how you spend your money.
2) Faster than organic SEO
Organic search is a long-term marketing investment with incredible benefits. PPC is not a replacement. Creating a PPC campaign alongside organic will improve both old and new websites. By generating instant impressions and clicks to your website, PPC is a must for many businesses.
3) Increased main customer base
Greater exposure in search will naturally translate into an increased click through rate. The main goal is this will lead to higher conversion rates and a larger customer base. If you make use of demographic and location data, you can greatly improve outreach to your preferred customer base.
4) Informed cycle of marketing data
Keywords used in your PPC campaigns directly influence opportunities for increasing organic traffic. Data gathered through your campaigns can offer insight into your keyword performance. As your audience is searching for those terms, you can create rich content that focuses on those keywords.
5) The sky is the limit
Your budget can be set as low or as high as you can afford. PPC is fully scalable with your business requirements. Understanding your budget requirements is an important base for performance longevity. Coupled with in-depth keyword and demographic research, you can make your mark through paid ads.
6) Your competitors already use PPC
We'd be remiss if we didn't point out that your competitors are already running PPC campaigns. In recent years, it has become the easiest way to get the jump on your competition. Make the most out of your advertising and outperform your competition for your desired search terms.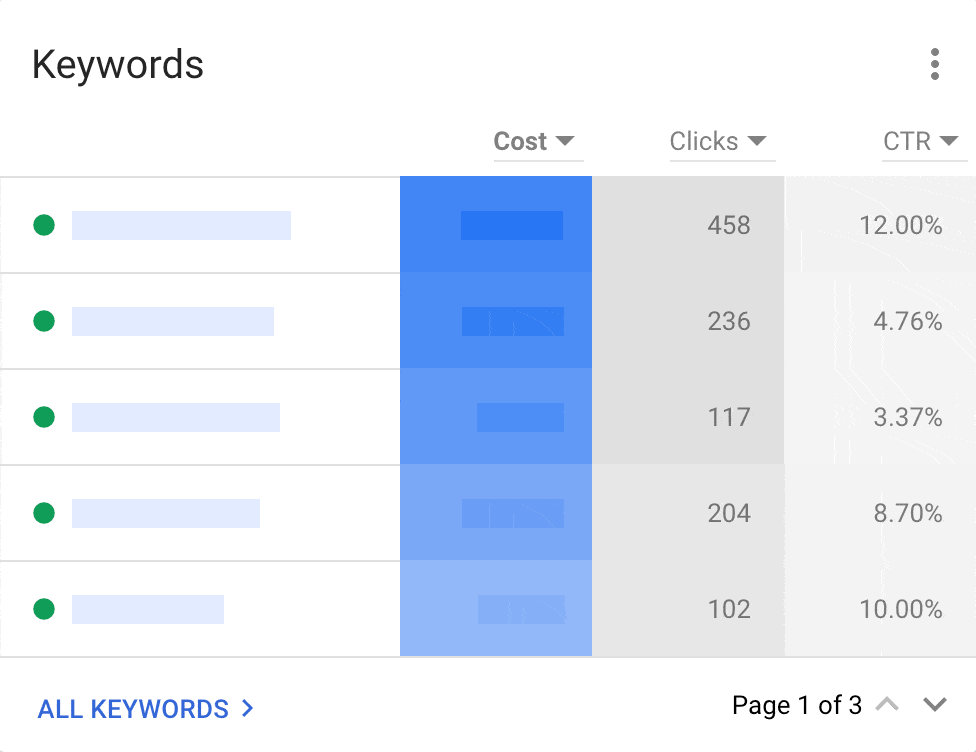 Account management and reporting tools
Performance monitoring and conversion analysis
Your PPC performance is very important. We regularly monitor and adjust your campaign to provide an effective PPC strategy. This includes optimising keywords for the cost per click (CPC) and highest click-through rate (CTR). As well as scheduling ads for peak traffic flow, maximising your conversion opportunities.
Create your campaign opportunities
Get your free Google Ads estimate